We offer our Washington buyers quick shipping speed & low rates, order local and save money instead of ordering from other locations that are farther away which cost more.
BOLD Black Out Light Deprivation Cover
The only 8 mil, reinforced, light-weight light dep cover that is 100% light blocking – no pinholes/ no perfs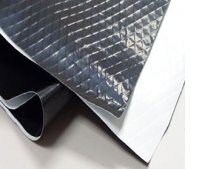 White Outer Layer contains UV inhibitors and thermal stabilizers to reduce condensation and heat build-up.
Black Carbon Layer ensures total darkness and enhances outdoor life.
Withstands both heat and cold (-70°F to 180°F)
Polyester Scrim reinforcement adds durability and tear resistance.
BOLD can be used in automatic and manual light deprivation systems
Clear String Reinforced Greenhouse Cover
Polyester scrim sandwiched between two layers of clear, co-extruded polyethylene.
This film is available in 6 and 10 mil thickness.
Both mil thicknesses contain UV inhibitors
Withstands both heat and cold (-40°F to 180°F operating temperatures)
∗DS10HUV is a heavy-duty cover that contains additional UV with 85% light transmission.
We offer a variety of clear greenhouse covers for maximum UV penetration, overwintering, and condensation reduction.
Indoor Fire Retardant Grow Poly
The foundation of a safer indoor growing environment!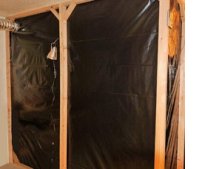 Black Out Fire Retardant Poly
4 mil fire retardant blackout poly sheeting specifically designed to black out light.
Double Black blocks light 100% and contains UV inhibitors.
Fire Retardant passes NFPA 701-04 Test 1 and California Title 19 fire retardant standards.
Meets ASTM E84 Class A.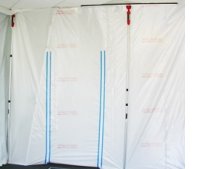 Reflective Anti-Static Fire Retardant Poly
ASFR6 is enhanced with anti-static properties that prevent dust and plants from sticking to it.
Fire Retardant passes NFPA 701-15 Test 1 fire standards.
Meets ASTM E84 Class A.
Fire retardant standards are printed in red on the poly sheeting to make it quickly identifiable for fire marshals.
Aquaponic & Hydroponic Liners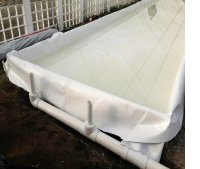 20 mil White Reinforced Liner
Highly reflective scrim reinforced polyethylene liner for ponds, troughs and trays.
White outer layers reflect heat
Highly Tear and puncture resistant
Heavy Duty scrim reinforcement.
UV inhibitors extend longevity of the liner.
Made from virgin resins, FDA & USDA Compliant.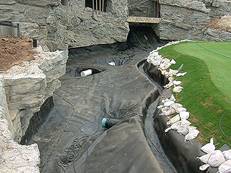 HDPE & LLDPE Pond Liners
Heavy duty liners are available in 20, 30, 40, & 60 mils thick, also used as a root barrier for trees and bamboo.
Custom Fabrication Capabilities
Not prone to environmental stress-cracking
Endures repeated thermal expansion & contraction cycles.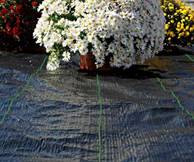 Ground Covers
3.2 oz/sq yd black polypropylene woven fabric that is UV treated to prevent weed penetration while letting in air, water, and nutrients.
Heavy duty woven textile polypropylene.
3.2 oz per square yard.
UV resistant.
Resists most horticultural chemicals.
Blocks 99.7% of sunlight and typically lasts up to 8 to 12 years.
Approved for government weed control operations.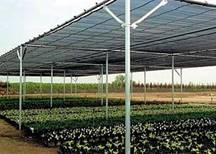 Shade Cloth
Shade Cloth is available in 30-90% densities to add the perfect amount of shade to your operation.
Stock black shade comes in 30, 40, 50, 60, 70, 80, & 90%.
UV resistant.
Resists most horticultural chemicals.
Optional taped edge with brass grommets.
Ideal for privacy canopies and screens.
Tapes, Zippers, & Grommets

Vapor Tape – primarily used to seam large panels of polyethylene film together. It is heavy-duty and weather resistant tape with a non-staining, clean removal, rubber adhesive.  4″ x 180′ roll.
Greenhouse Tapes – clear – 2-sided 1.75" x 300' and single-sided 4" x 50'.
Butyl Tape – a 2-sided, 35 mil thick seaming tape. This rubber like tape is used to adhere polyethylene sheets together 1.5″ x 100′ roll.
Peel & Stick Grommets – Easy to install grommet patches, packs of 4.
Heavy Duty Cloth Zippers – Heavy duty 7' long cloth zippers that easily adhere to poly to create temporary entrances/exits on partitions, greenhouse covers, etc.
Tarp Grabbers – Set of 20 clip-on plastic grommets to create your own custom covers and tarps.
Our full product listing will be online and available in Spring 2017 but we can provide you with bulk orders until then. Please email us at

ryan@bmorganics.net

with all of your order requests. We will get back to you ASAP to fulfill your order. Thank You.